We may not often encounter those challenged by severe disabilities or pain in our daily interactions with the outside world, but these individuals exist in great numbers, often unable to participate in society and the public sphere unless we purposefully and consciously make an effort to include them. Fortunately, our society recognizes the need to address the needs of people limited by disability and illness. The Americans with Disabilities Act of 1990 has been fundamental and, in my view, a highlight in the history of the American Project.
Personally, I strive to support and advance the well being of people who suffer from disabilities and are challenged by illness, especially those who suffer from chronic pain. I learned first-hand of the realities facing people in pain when I myself became a patient– to this day I continue to need to recline or lie down a great deal of the day as I cannot bear weight for extensive periods of time. This problem, slowly improving, does not represent an absolute impediment and I study, teach and am involved in advocacy efforts regardless of this limitation.
I live a very active and happy life, always striving to be of service to others in their own challenges. Patients and individuals with disabilities tend to persevere against odds and limitations, despite the many obstacles they face. By giving a helping hand, or sometimes just by listening to the stories of these our fellow citizens, we ourselves become inspired by their resilience and positive can-do attitude. By becoming aware of the pain and the challenges of others we can all learn about the vicissitudes of life and indeed fulfill a personal and civic duty by making our country, communities, and families more inclusive.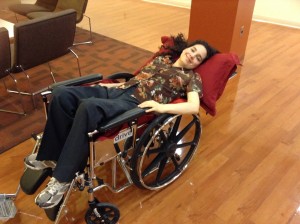 As coordinator of TogetherAgainstPain.org my main objectives are to assist people challenged by disability and limited by an array of painful conditions, to offer support to them and their caregivers, and to provide guidance to health care professionals and organizations in a way that only one who lives with these challenges can. Through mentoring, educational information, workshops and other activities, I seek to help patients and their caregivers overcome their health and disability challenges as they continue overcoming obstacles in the pursuit of their life journey.